LOL I sure have taken my time haven't I. Well wait no longer here it is...
Natalie is now home from the hospital. Thank God!!!! Thank EVERYONE for their thoughts and prayers. It means so much. REALLY. Her fevers are gone and she is now a happy little baby. Just like she should be. However the doc wants to do another spinal tap just to make sure she is through with it all. So keep your fingers crossed. And pretty soon I will be taking her baby photos. Ooooowwweeee I can't wait! She's soooo adorable and has gained 2 pounds already! Can you believe it! I am so relieved!!
So I have more good news. I finally saved up enough of my pennies to get my lens!!! It's on it's way to me as I type. So thrilled and pumped about it. I am dying for it to get here so I can play.
I even set up a family shoot for my whole family. We'll be heading up to the Sequoias for it! It's gonna be awesome. My family of three, Momz and Dad, my brother (single), and my other brother family of 4. YAY!
Also I have hired a model for my photography. I get to boss her around and make her wear what I want for the photos and even do her makeup. LOL She is willing to be paid in picture. Ha Ha Ha So I just wanted to share a few. She is such fun to shoot. We had a blast. CC is welcomed
even if you're a lurker.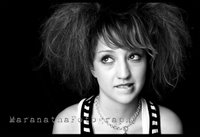 And guess what? We're moving!!! Finally. LOL Seriously this time. We are already packing. Yay. And we have an extra room so guess what that means? STUDIO baby!!!! Yeah! I am ex-cited. I have all kinds of ideas brewin' to decorate it. Cannot wait. Okay well there's my update. Hope all is well in everyone else's world!
Much Love-
Mara-May*